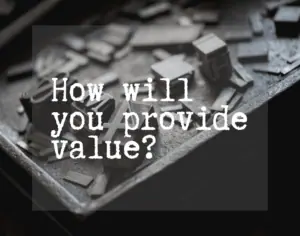 "Your customers don't care about you. They don't care about your product or service. They care about themselves, their dreams, their goals. Now, they will care much more if you help them reach their goals, and to do that, you must understand their goals, as well as their needs and deepest desires." – Steve Jobs
We've moved from bricks to clicks as a result of digital transformation. Church leaders are trying to create an omni-channel strategy that complement their resources (both time and money). Omni-channel communication encompasses many online and on-site touch-points – desktop or mobile devices, voice, email, web, chatbots, kiosks, and brick-and-mortar (onsite) location.
Content marketing aims to build awareness, position your church, and attract guests while preventing channel conflicts and data living across many platforms. Does your content strategy ensure deeper engagement by people with your church?
You should think both inbound and outbound marketing so that you can engage with your audience both online and offline. Creating content that adds value to your audience is a wonderful way of drawing your visitor to your church.
Make it about the mission, not the personality. Your roadmap to providing value to others should be consistent across all your brand touch-points. Spend time alone to clarify your vision. Identify what you don't want to be as much as what you do.
You need clarity across a variety of touch-points including Google Ads, your website, social media accounts, online church, blogs & podcasts, video content, learning management system and online courses, online forms, printed material, surveys, events, annual reports, and giving platforms.
Take some time to reflect about five areas as you provide value to others:
Channel – what communication channels will you use?
Mission – what is the mission and objective of these channels?
Content style – How will you structure the content?
Call-To-Action (CTA) – What CTAs will you use?
Metrics – What metrics will you use to measure success?
It is a "never-ending journey that extends well beyond social media… It is about making a full-time commitment to the journey and defining yourself as a leader and how that shapes the way you bring value to others." – Glenn Llopis, Forbes journalist, in Personal Branding Is a Leadership Requirement, Not a Self-Proclamation Campaign.
---