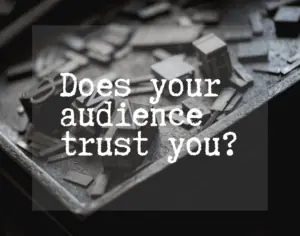 It is tedious, but crucial, to cultivate an online presence for your church. People don't show up at the first church they see. They research options beforehand. Churches cannot have a negative or a nonexistent presence online.
Online audience does not care about who you are, what you do, or what products and services you provide. They care about themselves, their wants, and their pain points. While they are forming an opinion about your church, they are processing four questions.
Do you support me or are you against me?
How do I feel about what is going to happen?
Am I more important than you are, or do you have more power over me?
Do I have a say or not?
There is a growing need for church leaders to understand the impact that online conversations have on the reputation of their churches. People read online reviews of a local church, follow social media, and visit church websites. Engagement in an online conversation is more important than ever.
On the internet, word spreads quickly. Websites, online church, listings, reviews, and social channels offer visitors with a chance to learn about you and trust you. People rely on word of mouth and online reviews to inform their choices.
Sadly, negative words seem to resonate more powerfully online. Church leaders must make sure words that are more positive gets written down about their church than negative ones. Capturing the positive voice is possible if you can offer a simple way to encourage others to write a review about your church.
Did you know that consumers trust online reviews as much as personal recommendations? 92 percent of buyers are more likely to purchase after reading a review. Only 13 percent will purchase from a business with a one to two star rating. 70 percent of consumers will write a review for a business when asked.
People are more likely than ever to look for online reviews to assess a place before they engage. The reviews that a church receives should never be left to chance. Churches should ask their guests to leave reviews.
Church leaders should care about online reviews for five reasons. Firstly, it drives engagement. Secondly, referrals has always been the best marketing channel. Thirdly, it plays a vital role in local search rankings. Out of hundreds of SEO ranking factors, reviews are rated the fifth most important. The fourth reason is that online reviews provide the church with a chance to enter the conversation and establish trust. Lastly, reviews are a way for leaders to find out what their church is doing well and what needs improvement.
In the future, churches that actively manage their online reputation will flourish. They will built trust in virtual communities.
---