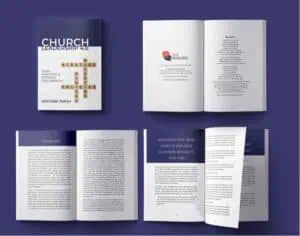 Church 1.0 was location-based.
Leaders erected church buildings. People came to the church on Sundays. Having a better parking lot meant more visitors. We had restricted hours, mostly on Sundays, and people came when the doors were open. It was not a 24/7 experience.
Church 2.0 was customer-centric.
It was about taking care of "my people."  The 1990s was about better service.  In 1992, the first week in October was announced as "customer service week" by President George H.W.Bush. Churches adjusted to better customer service as their selling point. Churches started to discuss how to follow up with their "guests" – hospitality, greeters, coffee in the lobby, and customer or guest service became the buzzwords.
Church 3.0 was cause-based.
Serving the community, supporting missions and short-term missions, giving to a local food bank, volunteering at a local charity, and running a community center became the priority for churches. In some circles, we began to discuss human-centric and ecological-centric missions.
Church 4.0 is moving from traditional to digital. It is phygical and phygital.
Phygical is the merging of physical and digital. Church 4.0 is the marriage of online and offline environments that creates a closer and an authentic engagement. All marketing channels have to work together to create a frictionless and seamless experience.
Phygital is a term coined to describe omnichannel marketing.
Phygical marketing, optimization, and automation will take place at an incredible speed. Take the case of Zappos. It is an online shoe and clothing retailer. They provide personal touch through their call center that removes the barrier of buying shoes online. Likewise, church leaders will utilize online tools to attract and merge with human-to-human engagement. We go to Twitter for breaking news. We eventually return to Fox News or CNN.
There is no "one-size-fits-all" guide available to leaders. The overall size of the church helps to decide the scale of administration.
Small churches need to attract online viewers and engage with them locally to grow.
Mid-size churches face the challenge of expansion but controlling costs.
Large churches need to innovate to avoid burnout.