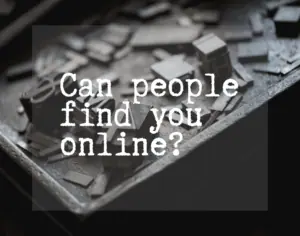 The need for churches to be found online is increasing. People use hashtags and find information using search engines. They search anywhere and at anytime. Search engines such as Google have improved the ability to locate information.
Consider this:
Local searches make up 49 percent of all Google searches.
Around 18 percent of local searches end in a conversion (sale).
Consumers who conducted local searches on their smartphones visited stores within one day.
About half of all mobile searches are looking for a business name, address, phone number, or service information.
In all places where people are looking, your church details need to be available and accurate. This includes your online presence, apps, voice searches, and GPS navigation system. Finding and accessing church information is an important step in modern customer engagement.
Findability is a measurement of how easy it is for prospective members to locate and access church information. Visitors will look elsewhere for information if it isn't there, lost in translation, or not intuitively structured. Though it can seem complex and overwhelming at first, findability is a critical component of a church's digital marketing strategy.
Local listings are the data point across this broad, searchable ecosystem. It's easy for church data set to get scattered across multiple sources, to change constantly, and to lead a prospect astray if not managed correctly. Proper local listing management connects three essential layers of data:
Layer 1: Data aggregators provide local data to sources like Google, Facebook, Yelp, Bing, Uber, and more.
Layer 2: Data amplifiers provide a standard format of business information that is used by thousands of developers to build other search tools.
Layer 3: Known as the 'presentation layer', data publishers seamlessly publish submitted local data to a range of accessible online, mobile, and navigating systems.
The church leadership has the responsibility to determine how they plan to appear online, through mobile apps, voice searches, and other methods. You do not need to be an expert in data layers. You can 'Ask Amitabh' about how to find a local listing management solution that works for your church.
---